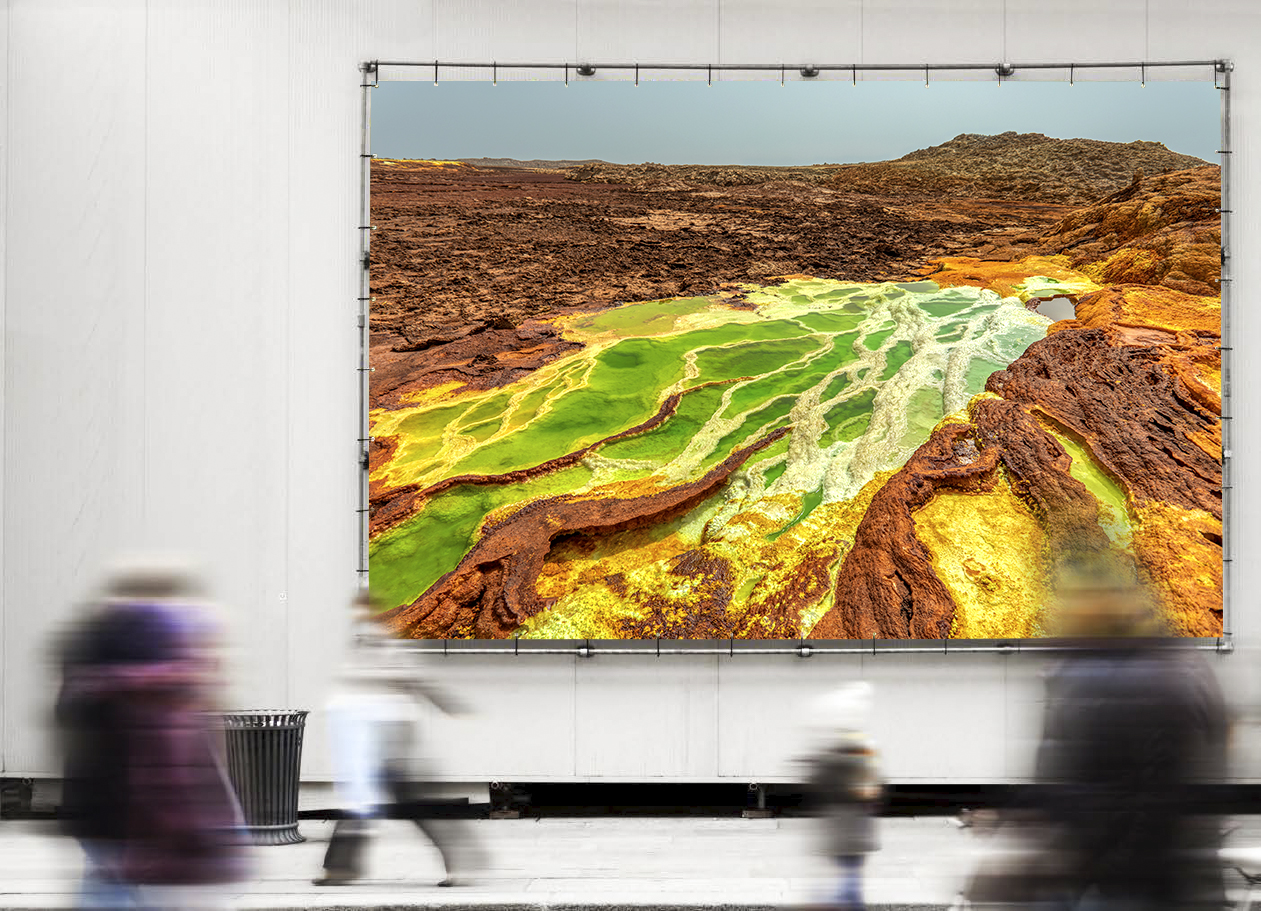 17th September 2021
In the print business, adapting to changes in consumer behaviour is essential to run a healthy business. There is no better example of this than PVC-free banners, which have captured people's imaginations due to the plastic crisis.
The plastic crisis is perhaps the greatest challenge facing society, with plastic pollution on pace to double by 2030. There are several ways people can help, and one way is switching to less polluting, more recyclable types of plastic.
This has spawned a range of PVC-free materials, including PVC-free banners and PVC-free media that offer similar performance.
This article will look at what PVC-free means, how it is beneficial to the environment, and the characteristics of PVC-free banners and media.
What is a PVC banner?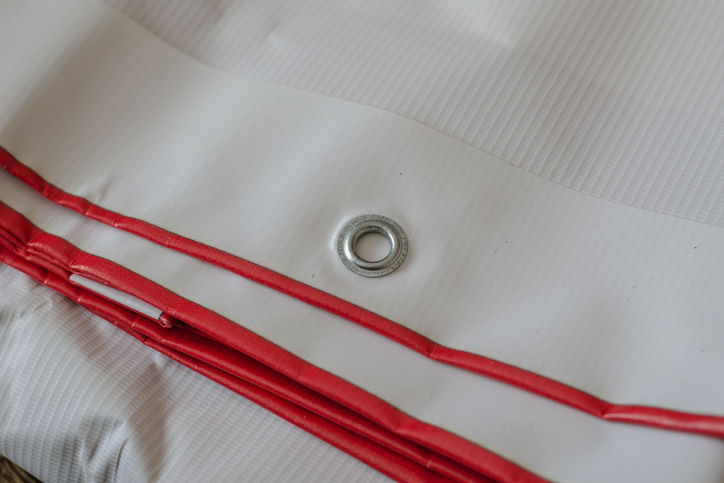 A PVC banner is made from Polyvinyl Chloride, the world's third-most widely produced plastic, which depending on its molecular structure, can be used to make pipes and gutters or banners that span the length of a skyscraper.
PVC banners are the most widely used banners by volume because they are cheap, long-lasting and support standard printing equipment.
PVC banners come in a range of sizes, shapes and weights (weight is defined in GSM (Grams per Square Meter) – a higher GSM means a heavier product.
What is PVC-free vinyl?
PVC-free vinyl is a substitute for PVC vinyl in display products like signs, posters, backdrops and adhesive films. The most common substitutes are PET, PP, PE and polyester, which are types of plastic but better for the environment than PVC.
Vinyl and laminates aren't measured in GSM but in MC (microns).
PET vinyl
PET vinyl is made from Polyethylene Terephthalate, a highly recyclable plastic used to make block-out and one-way vinyl.
Related product: VistaMAX PET One Way Vision Removable Adhesive.
PP vinyl
PP vinyl is made from polypropylene, another highly recyclable plastic used to make high tack, removable and permanent vinyl products.
Related product: Vistamax PP Permanent Vinyl.
PE vinyl
PE (polyethene) is used as a coating system for holographic vinyl and to manufacture woven products for short-term use, like posters.
Related product: GF Rainbow AP/90.
Polyester
Polyester is used to manufacture polyester canvas for banners, with the synthetic woven fabric used outdoors for long-term use.
Related product: Envirotech PVC Free Banner 180 W/W.
What is a PVC-free flex banner?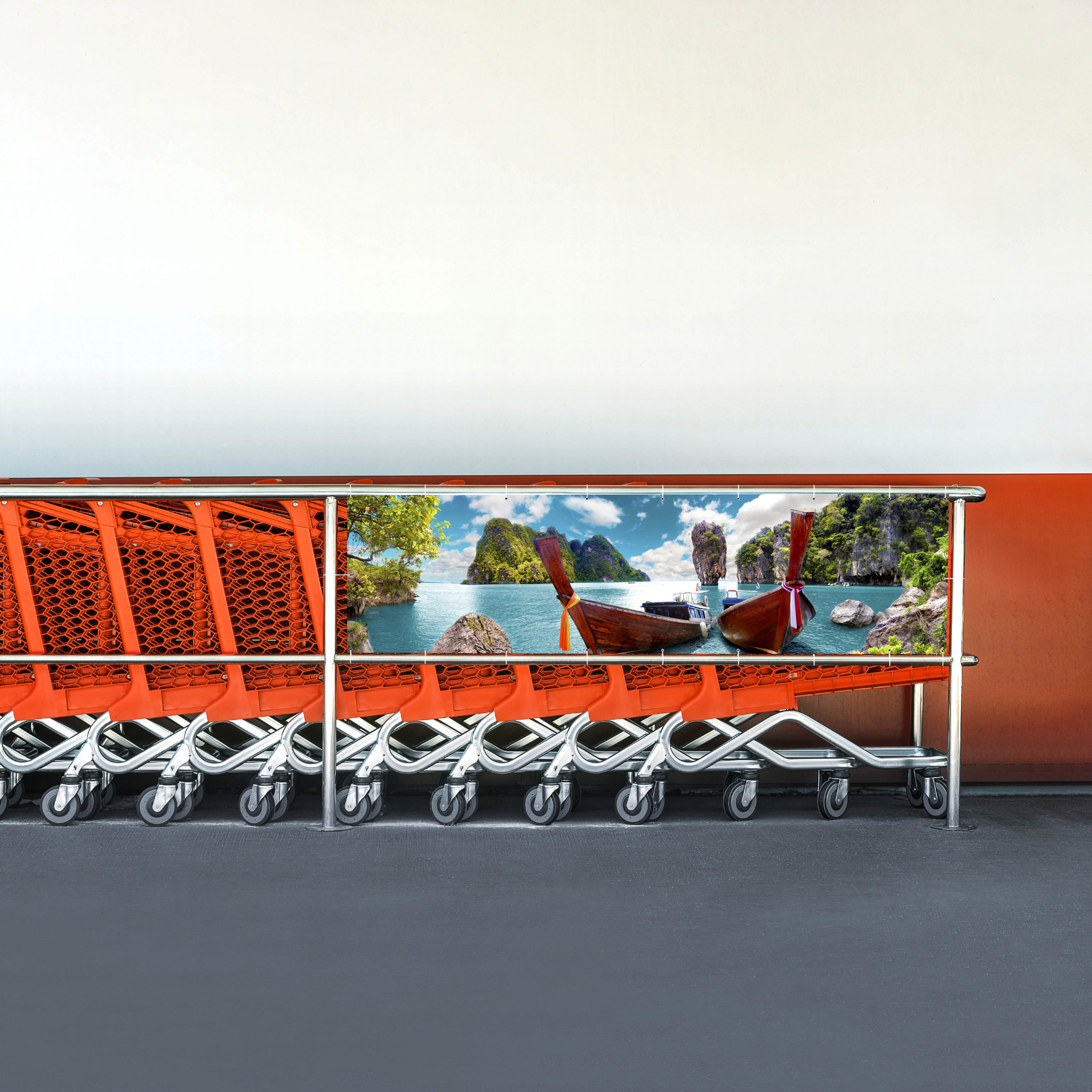 PVC-free flex banners are made from polyester canvas (also known as mesh), or PE woven material, as opposed to PVC flex banners, which are made from PVC.
PVC-free flex banners get the name 'flex' from the flexibility of the material during printing and how easy it is to print on a large scale.
PVC-free flex banners can be used indoors and outdoors, depending on the product. A related product is Envirotech PVC-free Flex Banner 160, which can be printed with UV inks and is rain and UV (fade) resistant.
Is PVC-free vinyl recyclable?
PVC-free vinyl is made from plastics and polymers that are recyclable, in contrast to PVC, which isn't recyclable to any extent.
For example, PP, PET and polyester are 100% recyclable. However, the recyclability of PVC-free vinyl depends on its constituent components.
For maximum eco-friendliness, look for PVC-free media that use one plastic or vinyl that uses a limited range of plastics (including the backer and liner). Adhesive vinyl should use emulsion acrylic or solvent polyacrylate for the adhesive.
Why do we need PVC alternatives?
Statistically, PVC is the most environmentally damaging plastic. Greenpeace dubs it "the poison plastic" because it requires massive emissions to manufacture, can't be recycled and contains massive amounts of chlorine and dioxin.
At the end of its life, providing it finds its way into waste processing and not the environment like our oceans and rivers, PVC ends up in landfill sites, or its toxic components are released into the atmosphere through incineration.
All told, PVC banners are bad news for the environment.
PVC alternatives are needed for printable products like signs, stands, posters, banners and vinyl to market and promote businesses in an eco-friendly way.
Eco-friendly recyclable banners – PVC Free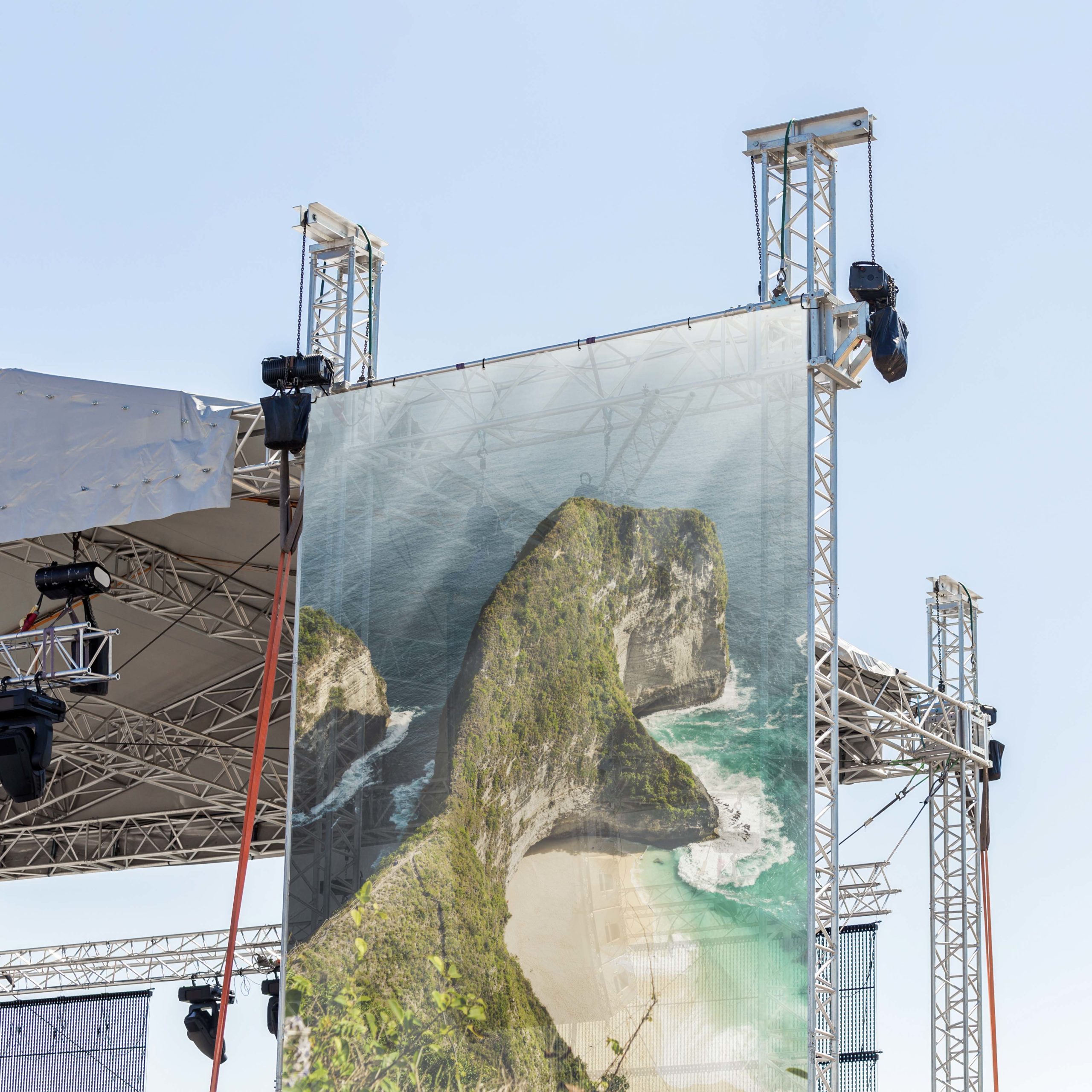 Now that you know the environmental benefits of offering PVC-free banners to customers, the next step is researching the products available.
Thankfully, we've done that for you.
We are the UK and Europe's leading trade supplier of wide and super-wide print materials, and we have an unbeatable collection of PVC-free banners.
Eco-friendly, PVC-free banners
A fantastic alternative to PVC banners, eco-friendly banners are made from 100% recyclable PVC alternatives, with no compromises in performance or longevity. You can substitute PVC banners for good with these products:
You can find more eco-friendly banners free from PVC here.
Eco-friendly vinyl
An eco-friendly alternative to PVC vinyl, eco vinyl is made from recyclable plastics with a lower carbon footprint than PVC. The beauty of PVC-free vinyl is it feels, looks and performs just like PVC vinyl. Here are some product examples:
You can find more eco-friendly PVC-free vinyl products here.
PVC-free materials
Thanks to clever engineering, a wide range of PVC substitutes are suitable for banners and vinyl. Some, like PE, are suitable for short-term applications, while others, like PP, can last several years outdoors.
Despite being bad for the environment, PVC is an extremely useful plastic because it's easy to print, durable and cheap, so PVC alternatives have their work cut out if they are going to replace PVC in printable products.
At Innotech, we only offer PVC-free banners, vinyl and other products that will replace PVC without compromising performance. PET, PE, PP and polyester are all tried and tested, with similar or better performance characteristics to PVC.
Eco banner printing
Eco banners are printed using the same digital Inkjet roll-on printers used for PVC banners, so no hardware modifications are needed.
Some printers have media profiles for specific brands like GF and Vistamax, while others have generic PP, PET, and PE settings. It's important to use the correct settings for different media types to optimise print quality and artwork.
Things like bi-directional printer adjustments and feed calibration adjustments are also essential when switching between different media.
Roll-to-roll printers work by slowly feeding the banner roll through the printer and passing an inkjet print head over the banner one line at a time to print the design.
The blank roll is fed through, printed, and then rolled up at the end for easy handling and transport. After printing, the roll is cut to the final size using a machine cutting arm, which is computer-controlled and sometimes automated off the press.
The edges of the banner are hemmed, eyelets are installed, and voila! The banner is finished and ready to be shipped to the customer after packaging.
Recyclable vinyl banners
If you are a printer or sign maker, recyclable banners are an excellent way to demonstrate a commitment to the environment and appeal to eco-conscious buyers.
Recyclable vinyl banners are made from plastics that are widely recyclable using the common recycling processes in recycling centres.
This is an important distinction to make; that even if a media is recyclable, it means nothing if the media isn't recycled in most places.
PP, PET, PE and polyester are all 100% recyclable plastics that are widely recyclable, making them great choices for PVC-free banners.
Recyclable vinyl banners are made even more eco-friendly when packaging makes use of cardboard and paper and when adhesives, laminates and coatings are made from recyclable materials like solvent polyacrylate and emulsion acrylic.
PVC-free sign vinyl
PVC-free sign vinyl can be supplied in sheets, cut to size and cut with decals, giving it the same usability as PVC vinyl with greater eco-friendliness.
A great product example is Vistamax PVC Free PP High Tack Vinyl, which is perfect for flat surfaces like signs with outdoor durability up to 5 years.
If your customers want to make their business eco-friendlier, they will address their signage eventually. PVC lasts a long time, but it isn't recyclable. PP and PET are better for the environment with identical performance characteristics.
Eco-friendly PVC free printable vinyl
The eco-friendly PVC-free printable vinyl you offer customers should be printable using existing equipment. Most digital Inkjet printers support recyclable media like PP and PET without the need for any hardware changes.
Printing eco-friendly vinyl is usually as simple as selecting a media profile in software or creating a custom profile based on vinyl specifications.
Suppose you offer a wide range of printable products, like displays, backdrops, posters, banners, signs, laminations, stickers and adhesive films. In that case, you should stock a range of PVC alternatives, so you can satisfy all your customer's needs.
We can recommend the best PVC-free banners and media based on the products you sell and help you make positive changes in your business, like introducing cost-effective PVC substitutes and transitioning from PVC banners.
Reach out to us for a chat about how we can help you. We are the UK and Europe's leading trade supplier of wide and super-wide PVC-free print materials.