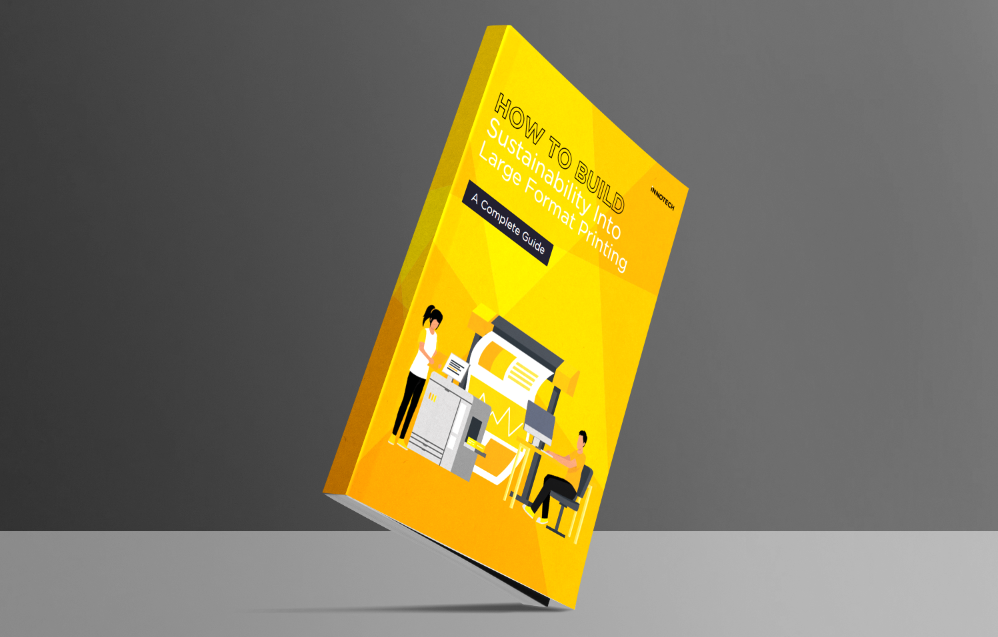 6th June 2022
Innotech Digital has published a comprehensive eBook covering the realities of being sustainable in the large format printing industry. The eBook is a guide to help printing companies navigate the challenges of becoming more sustainable throughout their operations. 
Sustainability has become a crucial element of just about every business and industry in the world.  Hardly surprising when there is an island of plastic twice the size of Texas floating in the Pacific Ocean.  Global carbon emissions are at an all-time high, and over 30,000 deaths per year are caused by local air pollution in the UK alone.
Sustainability in large format printing doesn't sound like it can make a difference to these grand problems, but everyone needs to play their part and Innotech's guide will help print companies make key changes to their business that can make their operations more sustainable and profitable at the same time.
Printing requires materials, energy, labour, and transport all of which produces carbon. While this is inescapable, there are several ways to build sustainability into printing that can tip the balance in favour of eco-friendliness.
Building sustainability into a large format printing business is clearly worthwhile and the Innotech eBook explains how this can reduce waste disposal costs, increase efficiency, attract new customers, boost bottom line profitability and enhance reputation.
Kieran Dallow, Marketing Manager for Innotech Digital, says, "Most printers are keen to find out ways to become more green in their operations, but a lot don't know where to start. There is an awful lot of 'talking-the-talk' going on in the industry and our guide is designed to show how to really do something, with actionable insights on how to help make small steps to being more green."