Published 3rd Oct 2022
Car Wrap Vinyl & Cast Vinyl – The Ultimate Guide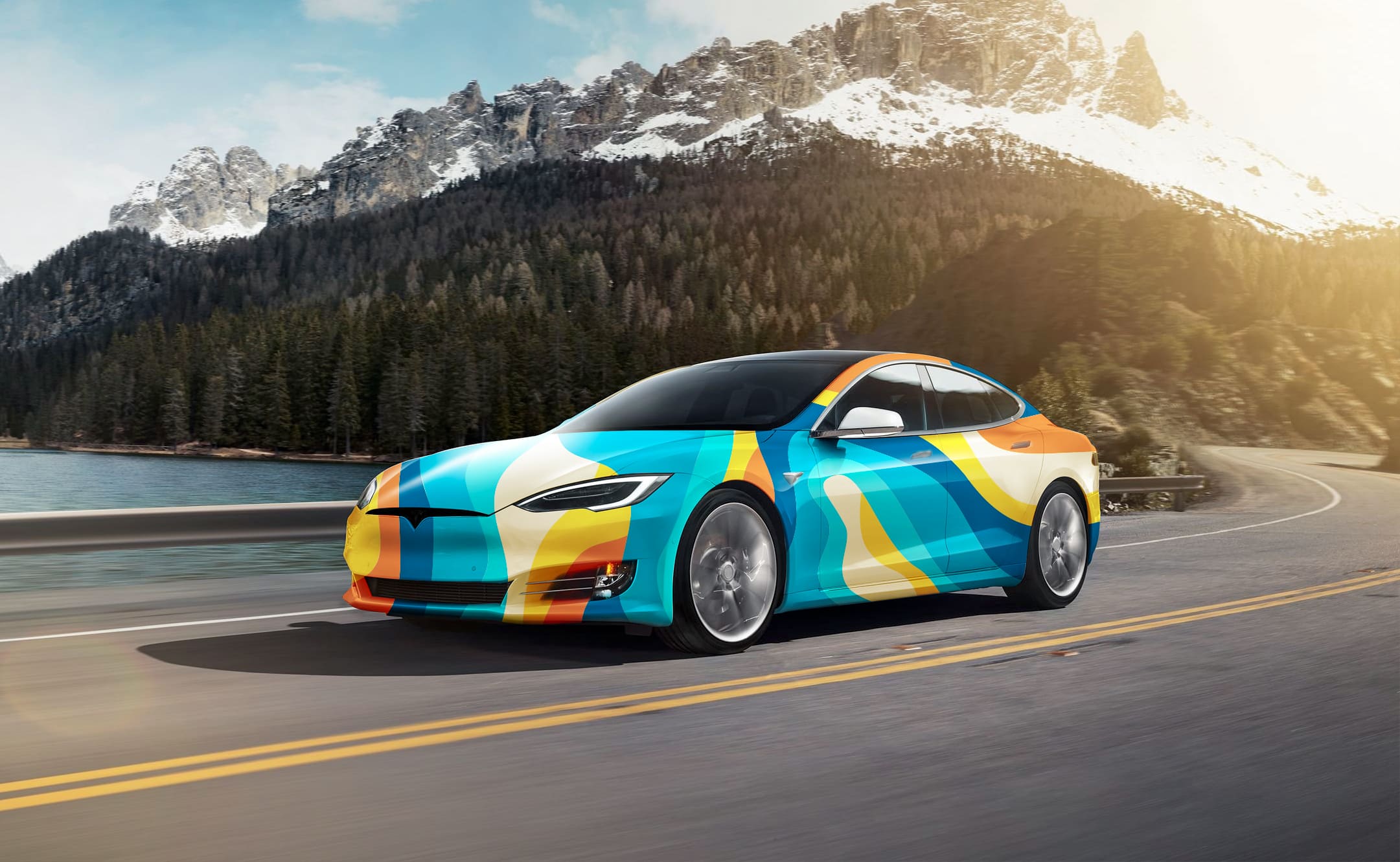 Vinyl car wrap protects paint and provides an optional colour change, giving car owners unbeatable personalisation. However, not all vinyl wrap is the same quality, and installation expertise largely determines the longevity of the finish.
This ultimate guide to car wrap vinyl lifts the lid on what it is, the pros and cons, and how experts install it.
Let's jump in!
What is car wrap vinyl?
Car wrap vinyl is a plastic coating system that covers a vehicle's original paint and trims. It is made from polyvinyl chloride (PVC) polymer with elastomers to make it flexible, creating a tight, semi-permanent bond with the substrate.
Most vinyl is either printable for complete creative license or coloured, both of which offer paint protection properties. You can also get a clear vinyl wrap, which preserves the paint's original aesthetic.
Car wrap vinyl is one of the most popular car modifications, and the market is growing with a broader range of vinyl than ever before.
How is car wrap vinyl made?
Vinyl is a PVC blended with plasticisers and elastomers, creating a spreadable formulation. The formulation is fed into a churner, introducing heat that blends plasticisers to create organosol, in which the PVC is suspended. For colour through car wrap vinyls, pigments are added during refinement, producing organosol with full-colour permeation.
The organosol pours into a moving web, which acts as a cast, rolling out the material into a long sheet. The vinyl sheet runs through a finishing chamber to rinse and dry it, and it is then rolled and sorted.
Note that the above describes cast vinyl – the best-quality vinyl on the market for car wrapping. The alternative is calendared vinyl, which does not contain solvents – this is cheaper and unsuitable for a high-quality vehicle installation, but mostly used on flat applications such as hoarding, truck sides and stickers.
One variation of calendared vinyl is polymeric vinyl, which is rolled to a specific thickness/width and is then put under tension to stretch it. The same principle is applied for monomeric vinyls too.
Is all car vinyl the same?
Car vinyl differs between brands and manufacturers, who have unique formulas to create what they believe is the best vinyl for the price.
More expensive vinyl is usually manufactured slowly, with more churn time and slower rolling to create a more consistent product. Cheap vinyl is mass produced with less care, and this shows when it comes to installation quality.
There is also a significant difference between cast vinyl and calendared vinyl. Cast vinyl is a lot better, with solvents to increase strength. Calendared vinyl does not have stabilisers, making it softer and less dimensionally stable which make application on curved surfaces much harder.
How does vinyl wrap get its colour?
Vinyl is coloured during direct manufacturing or with a print finishing process. With direct pigmentation, the liquid is coloured with latex ink and churned. With printing, ink transfers the colour pigment to the vinyl.
Latex ink is the most popular option for vinyl because it retains its colour when stretched and is UV resistant – an essential characteristic of car vinyl.
Other inks include solvent ink, which requires lamination to protect the finish, and eco-solvent, which is low VOC. UV inks offer the fastest print speeds, and durability innovations mean it is one of the best options for large print runs.
What are the finishes available with car vinyl wrap?
Automotive vinyl comes in an endless number of finishes, but the most common are:
Some others available are:
Metallic
Satin
Texture
Chrome
Pearlescent (colour change)
Car wraps can also be any colour, and it isn't difficult to find obscure colours and finishes, although some products require a custom order. Some installers prefer to just keep printable cast vinyl in stock, allowing them to stock less materials while giving them complete control over the colour of the finished wrap.
What is a cast vinyl wrap?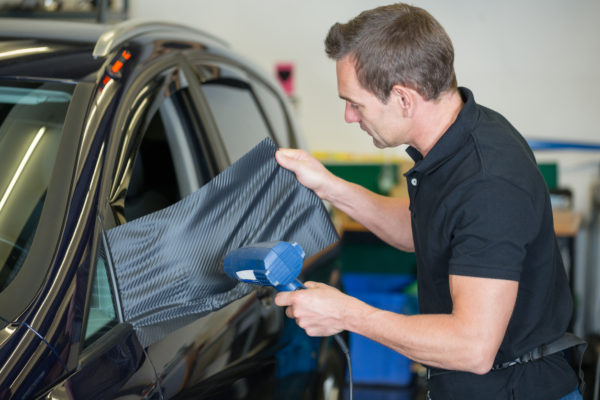 Cast vinyl is a premium-grade vinyl that starts its life as a liquid made from plasticisers, elastomers, and stabilisers. The liquid is spread and cured into long, thin sheets, creating a wrap suitable for exterior applications like vehicles.
All professional-grade vehicle vinyl wrap on the market is cast instead of calendared because the casting process (running liquid through rollers to form sheets) produces a thinner yet more robust and more stable product suitable for cars.
The main issues with calendared vinyl are lower durability and shrinkage over time, resulting in less resistance to the elements.
How long does car vinyl wrap last?
The quality of the installation matters more than anything. With professional installation, you can expect vinyl car wrap to last at least three years, and some products have a 5-year+ guarantee with approved vendor installation.
If you apply car wrap vinyl yourself, don't be surprised if it comes away from the paint after a few months. It takes skill and time to install car vinyl wrap.
Another consideration is the quality of the vinyl. Some wrap is easy to scratch and doesn't weather well. Cheap vinyl from China – widely sold on eBay – is notorious for fading in the sun and bubbling away from paint due to poor adhesion.
Where to buy car wrap vinyl?
You can buy car wrap vinyl from Innotech. We stock GF 230 AutoMark vinyl, a gloss white wrap of semi-cast construction. It is suitable for digital printing and accepts solvent, latex, and UV inks, letting you produce custom wraps.
It is made to adhere to corrugations, riveted surfaces, and flat and slight to moderate curves, with outdoor durability for up to seven years. You can apply it to paintwork, plastics, metals and other solid substrates.
We also stock GF 231 AutoMark (gloss clear UV wrap) and GF 240 AutoMark (matte clear UV wrap) for clear vehicle protection that lasts up to 7 years.
Innotech will also soon be the main stockist of the General Formulations 830 Automark Cast Vinyls
What is polymeric vinyl?
Polymeric vinyl is softer and more flexible than car wrap vinyl for installation over existing graphics. It eliminates show-through and adheres to PVC thanks to its large molecule size – ideal for installing lettering and graphics over car wrap.
Polymeric vinyl uses plasticisers with a large molecule size, as opposed to a small molecule size with monomeric vinyl.
Polymeric vs cast vinyl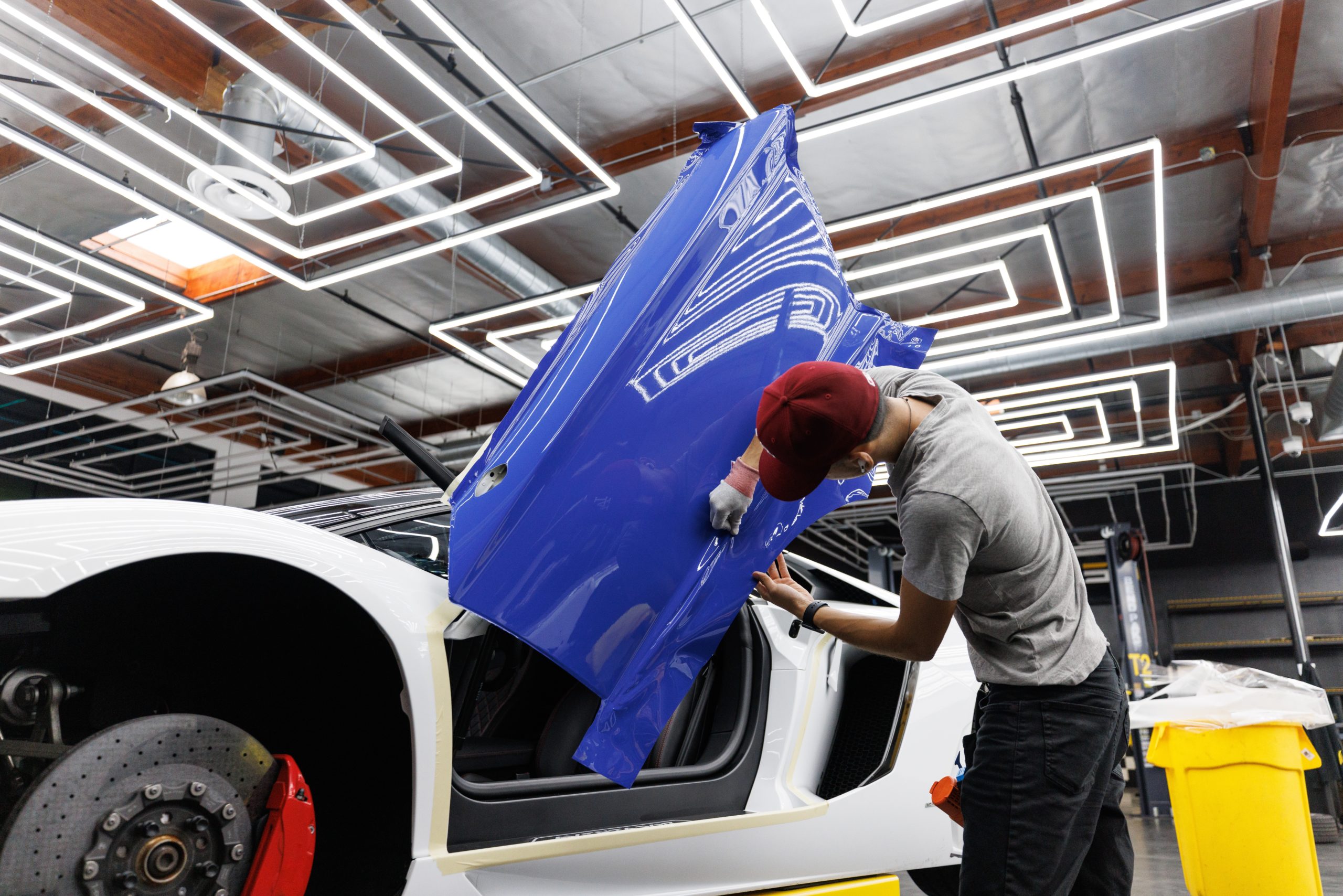 Polymeric vinyl and cast vinyl are similar in that cast vinyl uses the same plasticiser as polymeric vinyl with large molecule sizes. However, while polymeric vinyl is rolled, cast vinyl is produced in a long sheet in an oven.
Cast film is stronger and more dimensionally stable than polymeric film, but the flexibility of polymeric film makes it ideal for installing on top of cast film.
How much car vinyl wrap do I need?
You can measure for car vinyl wrap with a simple vehicle length x 3.5 calculation.
For example, a Volkswagen Golf MK8 is 4.284m long. Multiply this by 3.5, and we get a figure of 14.994 – so get 15.5m of vinyl to be safe.
The reason we apply a 3.5 calculation is for the sides of your car (x2) and the top x1 (including the bonnet and roof) – the 0.5 is for cut-off.
Refer to the manufacturer dimensions when taking measurements, and always account for model variants in the case of long wheelbases/bodies.
Car vinyl wrap vs paint
Car vinyl provides a semi-permanent colour change that protects a vehicle's original paint, while new paint permanently changes a vehicle's colour.
These are two different products for different requirements, and which is suitable for you depends on several factors, including:
Vehicle condition – if your car has pristine or good paintwork, vinyl wrap is the best option to preserve it. However, if your paintwork has many imperfections and is past its best, you should consider painting if paint detailing can't fix it.
Budget – vinyl is significantly cheaper than paint. It costs £800 to £1,500 for a high-quality professional wrap, versus four times that for paint.
Resale and hand back – if you intend to sell your car or hand it back to a leasing company, then vinyl car wrap is your only option. New paint can devalue a car unless it is a banger, so always go for a wrap in these circumstances.
Design freedom – car vinyl wrap is available in custom colours and finishes, and because vinyl is printed, the designs are more interesting than paint at a lower price.
Car vinyl wrap pros and cons
A vinyl wrap protects your vehicle from scratches and scuffs and allows you to showcase your unique style and taste.
The biggest downside to vinyl wrap is that it is a vehicle modification, so you must inform the DVLA and your insurance company.
Vinyl wrap pros
Affordable – compared to paint, vinyl wrap costs four-times less
Design flexibility – vinyl wrap is custom-printable with any design and colour.
Protection – vinyl wrap protects a vehicle's original paint from scratches.
Removable – with heat and adhesive softener, vinyl wrap is easily removable.
Vinyl wrap cons
Installation quality – you pay for what you get. Never use a dodgy shop!
Legalities – you must inform the DVLA and your insurer of colour modifications.
Wet vs dry car vinyl wrap
Wet vinyl wrap is installed with a fluid applicator that allows you to move the product around in situ. It is more forgiving than a dry wrap, although it is less suited to convex and concave surfaces due to a lower initial bond.
A wet wrap is, however, more suited to transparent wrap because it eliminates the chances of adhesive marring (where the adhesive dulls the finish).
Dry application vinyl wrap provides immediate adhesion to the substrate and eliminates the need for a wet applicator. It requires more skill to install and is better suited to complex shapes, where the immediate bond hugs any geometries.
Most professional installers use the dry application method because it suits the angular, concave shape of modern car bodywork.
How to apply car wrap vinyl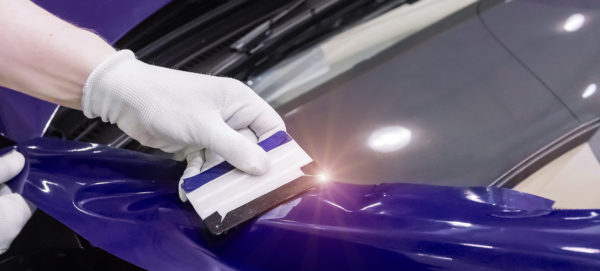 Vinyl wrap is installed wet or dry, depending on the product. Most professionals use both types, specifying them for different applications.
The GF AutoMark vehicle vinyl we sell is the dry type, with a solvent adhesive – professionals use it to achieve a showroom finish. Wet application vinyl is considered to be less suitable for professional applications.
How dry car wrap vinyl is installed
The vehicle is cleaned and decontaminated with a clay bar to remove contaminants like tar that can show through the vinyl.
Stone ships and minor imperfections are filled to create a smooth surface so that the vinyl installation is flawless.
The vinyl is cut into manageable sheets.
The installer heats the panel with a heat gun and presses the vinyl into it, using mild pressure with a squeegee to remove air bubbles. The vinyl is blasted with heat to make it flexible so that it stretches out.
Wrinkles and 'crow's feet (where the vinyl crumples) are removed with heat, with the vinyl stretched to achieve a paint-like finish.
How wet car wrap vinyl is installed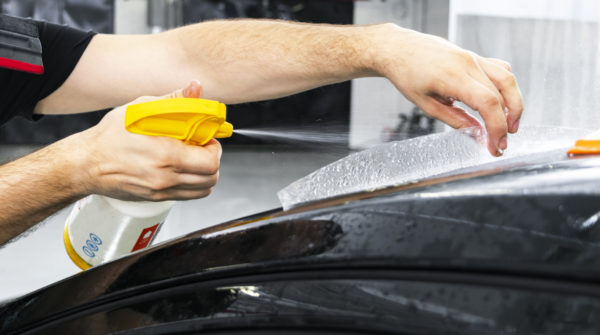 The key difference with a wet application is the panels are sprayed with application fluid (a mild detergent) so that the vinyl cannot bond immediately. This makes positioning the vinyl easier but makes installation on curves harder.
Here's what installation looks like:
The vehicle is cleaned and decontaminated, the same as for dry wrap.
The vinyl is applied to a wet panel and positioned in place.
The installer uses a squeegee to remove the fluid between the vinyl and paint, removing air bubbles.
The vinyl tape is removed from the surface (if applicable).
The area is re-squeegeed with a low-friction sleeve to press it into the paint and remove all remaining air bubbles.
Cast vinyl manufacturers
There are many different cast vinyl manufacturers out there, and it can take a long time to find out which one works best and is most consistent.
We have found General Formulations AutoMark Cast vinyls to offer the best cost to quality ratio. General Formulations are a trusted and respected vinyl manufacturer from the US. They have invested huge amounts of money in their cast vinyl production line and associated research to produce a cast vinyl that works for everyone.
If you want to try any of the General Formulations Cast Vinyls, get in touch with us to request your sample!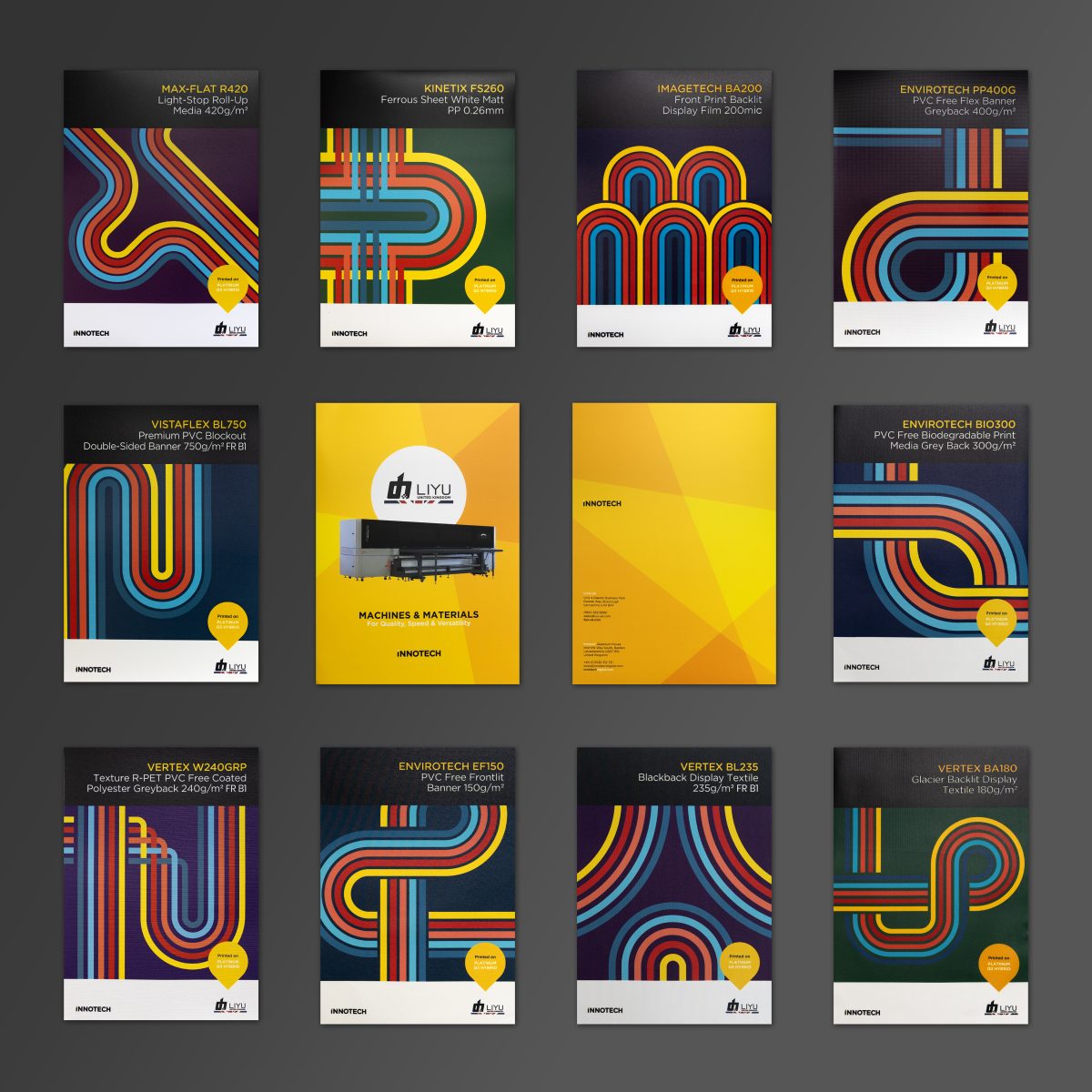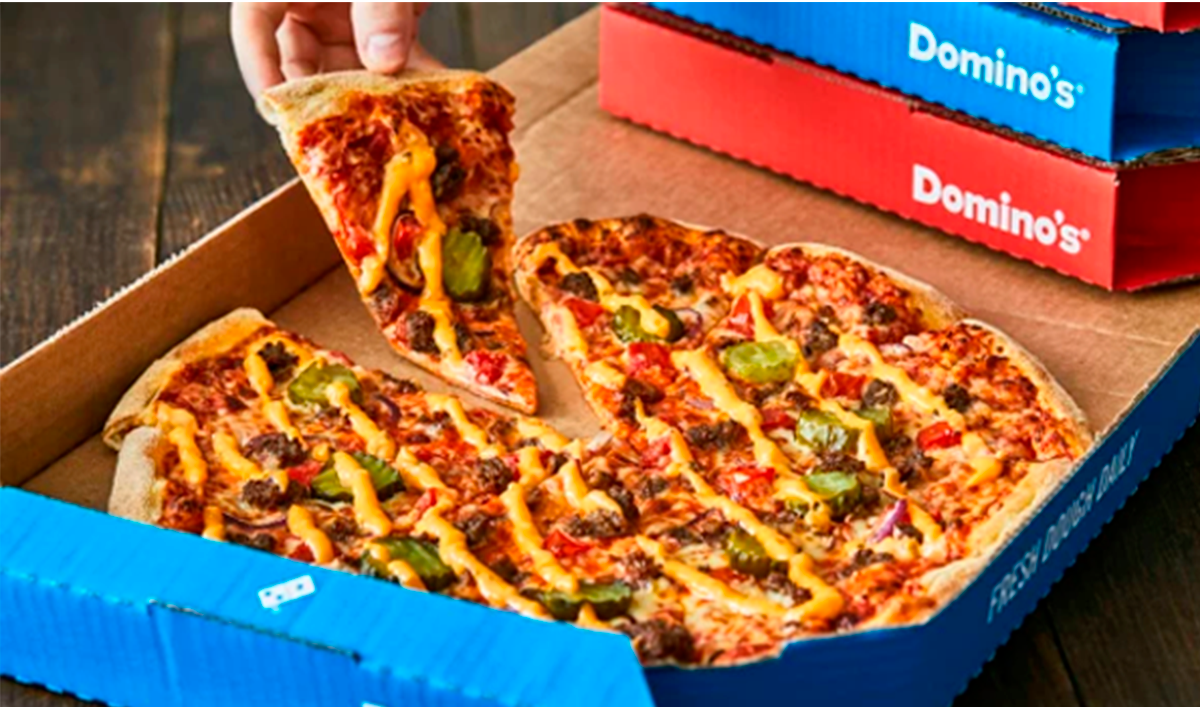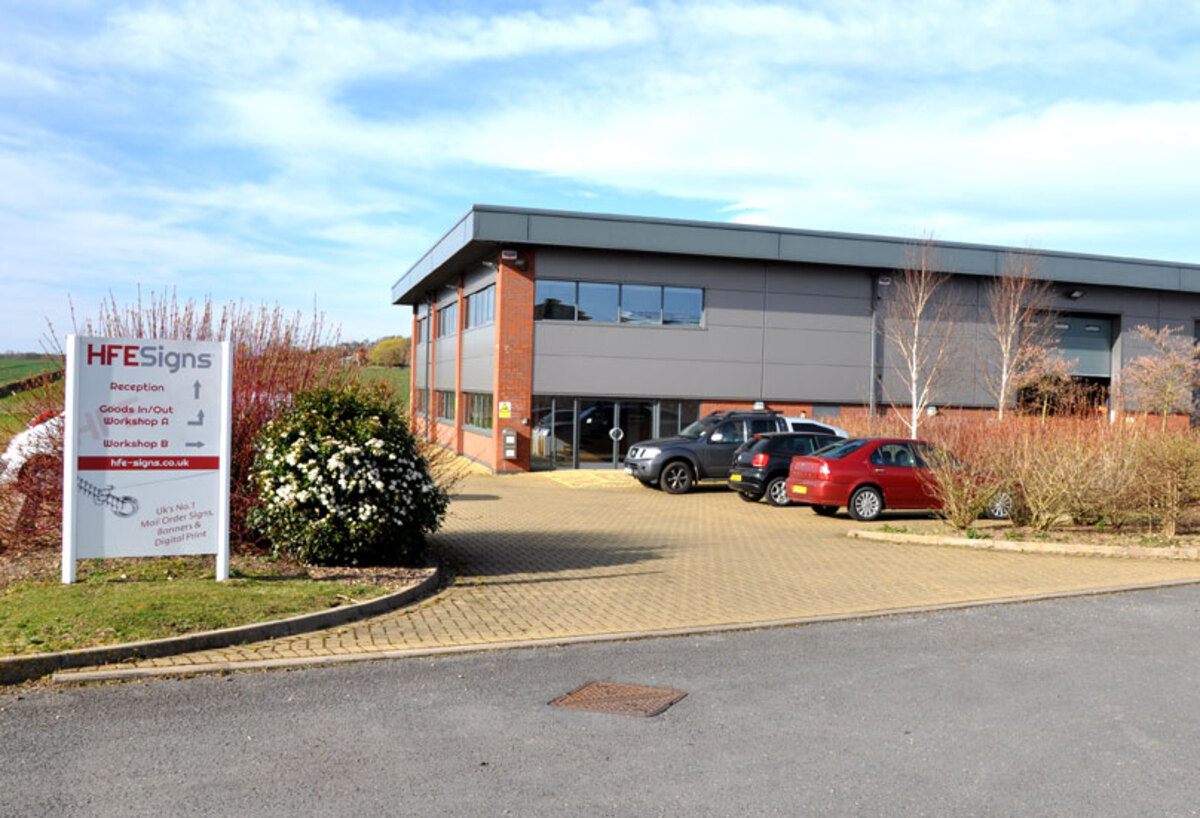 View all posts